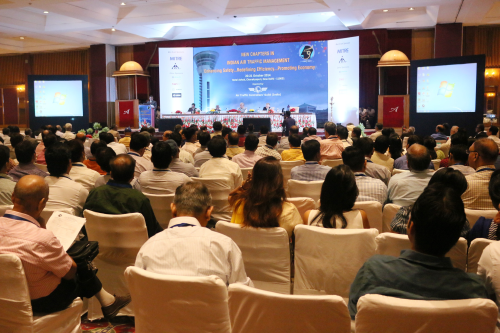 Air Traffic Controllers' Guild (India) has been conducting seminars for the benefit of aviation sector in general and the ATM fraternity in particular. A two-day seminar was organized on 20th and 21st October 2014 on the topic "New Chapters in Indian Air Traffic Management – Enhancing Safety… Redefining Efficiency… Promoting Economy" as part of our activities for the International Day of the Air Traffic Controller at Hotel Ashok, New Delhi.
This year's Seminar had a special significance as this is the Golden Jubilee year of the formation of ATC Guild (India) in 1964. Many activities were carried out this year to celebrate the Golden Jubilee including a seminar at Mumbai on the topic "Future Air Traffic Management – Safe, Seamless, Synchronised" in September 2014 which was very well received by the aviation fraternity and a blood donation camp organised at Jaipur Airport by the Jaipur Branch of ATC Guild (India).
The topic of this year's seminar was aimed at stimulating discussions on the new challenges for the Indian ATM services which is under pressure to ensure safety, efficiency at the same time economise despite the tremendous growth of air traffic over the Indian skies. The two-day Seminar was distributed in five Technical Sessions.
The delegates and speakers included international aviation business houses, eminent business groups from India, planners, bureaucrats, Airline CEOs, top executives from the Airports Authority of India, Airport operators, research institutes and ATM specialists of international repute. The Seminar was planned to offer the aviation community a wealth of ideas and knowledge.
The Seminar had two full days of result-oriented discussions of high-profile guest speakers and panels. The Seminar provided a unique opportunity to meet a wide spectrum of Aviation minds enriched with international participation.