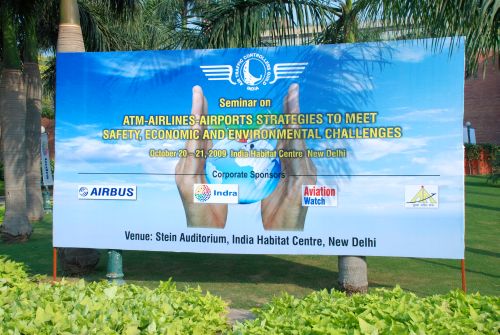 Air Traffic Controllers Guild (India) organized a two day seminar on 20th and 21st Oct 2009 on the topic "ATM-AIRLINES-AIRPORTS STRATEGIES TO MEET SAFETY, ECONOMIC AND ENVIRONMENTAL CHALLENGES" as part of its activities for the International Day of the Air Traffic Controller. The theme revolved around the concerns of the industry's most crucial issues of being economically viable while being environmentally friendly. The two-day Seminar was organized into five Technical Sessions.
The Seminar was inaugurated by the Indian Minister of Civil Aviation, Mr. Praful Patel. The renowned participants in the seminar included Dr Naseem Zaidi, Director General of Civil Aviation, India, Mr. Yashwant S. Bhave, Chairman Airports Economic Regulatory Authority (AERA), and Mr. V. P. Aggarwal, Chairman, Airports Authority of India.
ATC Guild (India) has also invited subject experts from various fields concerning aviation. These included AVM Dr Ajit Tyagi, Director, India Meteorological Department, Dr Hans Huber, Dr R K. Pant and Dr. Shyam Asolekar of IIT Bombay and Prof. C K. Varshney of Jawaharlal Nehru University, Delhi.
Airlines and airport operators were also represented by Mr. Robert Hedley Everest, Vice President Flight Operations Emirates and Mr. Andrew Harrison, Chief Operating Officer of Delhi International Airport Limited (DIAL) respectively. AIRBUS was represented by Mr. Hugues Subra de Salafa, Head of ATM Engineering who made a presentation on 'Airbus Vision in ATM'. Dr D Alan Gardiner of Indra Sistemas made a presentation on 'Interoperability – ATM Systems for the 21st Century'. The Helicopter operators were represented by the Secretary General of the Rotary Wing Society of India. The Pilot community had Capt. Korn Mansumitchai of IFALPA and Capt. Lakshmipathy of Air India to represent them. ATC was represented by personalities from the ATM Directorate of Airports Authority of India besides senior ATCOs from across India. IFATCA Executive Vice-President, Asia-Pacific, Mr. Raymond Tse could not attend the Seminar due to last minute personal problems. Dr. Kapil Kaul of Centre for Asia Pacific Aviation also made a presentation on the theme of the Seminar.
The discussion was not limited to technical analysis and useful presentations only. The Guild felicitated Dr. Vijayapat Singhania, renowned aviator of international repute to start the second day of the seminar. His remarks and suggestions were beautifully ornamented by his vast experiences in the field.
The Two day seminar ended with a positive note that all the parties concern should thrive to be environmentally concerned in order to reap the fruits of the development for the generations to come. The Seminar was very well received by all the stakeholders. The General Secretary of ATC Guild (India) announced that the Guild will organize such seminars at New Delhi on 20th Oct every year on the burning issues of the industry to mark the International Day of the Air Traffic Controller.
A Gala Dinner was organized on the 21st for all the participants and their spouses where everybody let their hair down.