TOPIC - SYNERGISING ATC-AIRPORTS-AIRLINES TO MEET CONTEMPORARY CHALLENGES IN CIVIL AVIATION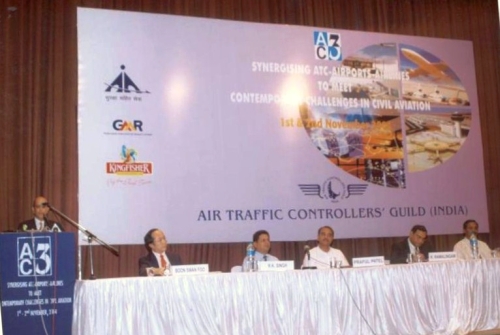 The seminar on "Synergising ATC-Airports-Airlines to meet Contemporary Challenges in Civil Aviation" was held at New Delhi on November 1 & 2, 2004. On the day one, there were three technical sessions. The first session's subject was "Future of Civil Aviation in India – Modernisation, Collaboration and Privatisation". The session was chaired by Shri H S Khola, which was conducted and regulated in a manner as a person of his stature is expected to, being the former head of the regulatory body in civil aviation, i.e. DGCA. We had three speakers in the first session. The first one was Capt. G R Gopinath, MD, Air Deccan, whose topic was "Economics of low cost travel in India". Capt Gopinath, a former officer of the Indian army, ventured in the Indian aviation sector and eventually launched the Air Deccan, the low fare - no frills scheduled airlines, on 25th Aug 2003. He elaborated the capacity handling constraints of aerodromes, particularly in respect of Delhi and Mumbai. Because a low cost airline banks upon the factor of optimum uses of the aircraft and that can be achieved only if you have a quick turn around time at the Airports.
The second speaker was Prof (Dr) Sushil from IIT Delhi. The topic was Flexible Management Systems and Collaborative Approach. The presentation was an eye opener for the aviation fraternity because the management concepts which were known to be confined to finance and administrative fields, are applicable to aviation field, in particular to Air Traffic Management. He dwelt upon the low cost no frill airlines focusing on the central issue of quality and he also emphasised on the point of decentralisation stating that decentralisation is not the answer for development in 3A (ATC – Airports - Airlines). Because you need to have fourth A i.e. the Government or regulator (DGCA) as a partner.
The third speaker was, Mr Peter Bysouth, Astt Director (user charges), IATA, Asia Pacific, Singapore. His topic was IATA vision 2005 – 2010. The presentation had an element of surprise with visualising draft press release for the year 2010, wherein it was stated that the Govt of India has achieved all the proposed reforms in the aviation sector like lowering of Airport user charges and linking theses charges to the quality facilities provided to the airline operators. And also the most important of all India bags the IATA - Eagle award for 2010.
The second technical session "Civil Aviation Infrastructure and its effect on growth of Developing Economies" was chaired by Shri Robey Lal, ex Member (Ops) of the Airports Authority of India, in a manner which in ATC terminology means in a "Safe, Orderly and Expeditious" manner. Shri Robey Lal dwelt on the word "Synergise" - the theme word of this seminar. The first presentation was made by Dr R K Pant from IIT Mumbai who is an associate professor in IIT Mumbai in department of Aerospace Engineering. He informed the august gathering about the various computer aided models available to study airport handling capacity, delays, detection of conflicts and resolution of such conflicts and foremost of all, the human factors and automation issues. Emphasising on the point that humans cannot work like a machine in a program sequence and the human in question is none other than the Air Traffic Controller.
The second speaker was Mr Sanjeev Bahl, GM (F&A), Pawan Hans Helicopters Ltd and his topic was "The Economics of Helicopter Operations in India". He dwelt upon the issues of large financial inputs required to sustain, if one has to venture into and continue in the Helicopter operations in India. He also highlighted the issue of hurdles in wet leasing of Helicopters for increasing capacity. He also emphasised on the need to have improvised Air Traffic Services procedures particularly in respect of Helicopter operations to and from Juhu Airport. A question was asked to Shri Bahl, why does not the PHHL develop its own heliports and operate. The answer is still awaited.
The third and the last session on day one on the subject "Second Generation Reforms in Civil Aviation" was chaired by Shri T Kesharwani, ex Senior consultant of Planning Commission of India and ex Member (Finance) of International Airports Authority of India.
The next speaker was Dr Vinaysheel Gautam from IIT Delhi. He is a Professor in department of Management Studies. He is also the founder director of IIM Calicut. His subject was "Second Generation reforms in civil aviation". He dwelt upon the state of infrastructure development in civil aviation in India. He gave examples of the new airports coming up in private sector, i.e. in Bangalore and Hyderabad, wherein new managerial policies are being experimented. He also commented on the Naresh Chandra committee report part - I, wherein the report identifies that the civil aviation policy is influenced by the external affairs policy of our country.
The last speaker of the day - I was Mr Akhil Sharma of SITA Inc. based at UK. Shri Sharma is a CNS/ATM expert and he is managing the SITA partnership with Air Services Australia, exploring the deployment of the regional ADSB services throughout the Asia Pacific region.
Second day of the seminar had three sessions. The first session, "Civil Aviation Infrastructure and its effect on growth of Developing Economies" was chaired by Shri T Kesharwani.
The first speaker was Mr Boon Swan Foo, Chairman CHAMPS, which is a wholly owned subsidiary of Civil Aviation Authority of Singapore. It is a well known fact that Changi has been consistently voted as the best managed airport in the world. He spoke on the subject, "Airports as National Economic drivers". He gave a scintillating presentation on the Changi Airport, Singapore and its effort to take up joint ventures in India in respect of Delhi and Mumbai Airports. He said the Air Traffic Controllers are life blood of an Airport. He appreciated the efforts of Delhi and Mumbai Air Traffic Controllers and ATC officers in general in handling the traffic with given constraints. He said airports are economic entities in their own rights. They generate employment at airport and associated industries but he also said of the biggest challenge on how to balance the public service role and to be a viable business in its own right.
We had a guest speaker as Shri Vijay Mallya, MP also the Chairman of UB group and Kingfisher airlines, who gave insight into the infrastructure development required at Indian Airports but gave a special emphasis on improvement in Air Traffic Control, Air Space restructuring etc. He shared his personal experiences as a pilot for experiencing delays on ground and told the gathering that the Air Traffic Controllers cannot do anything about it.
Third speaker was Mr Ashish Kaul, VP, Essel Group. He is an expert in corporate brand development & promotion, marketing communication, PR and advertising activities in telecom, satellite infrastructure etc. He spoke on the issue of common traveller's experience. He emphasised that airports are the mirror of the country because it is the first impression and a lasting one. Airports are the brand ambassadors of the country. He also said infrastructure development is not just building runways, taxiways, terminals, but it is a state of mind. The attitude of the service providers should be like treating the customers - not like a customer but like a guest.
Second session - "Second Generation Reforms in Civil Aviation" of day 2 was chaired by Shri Robey Lal.
The first speaker was Dr V Sridhar, a Professor with Management Development Institute, Gurgaon, specialising in information management area who has held many teaching assignments in India and abroad. His topic was Yield Management for competitive advantages in the airline industry wherein he emphasised on the Yield Management techniques to calculate the best pricing policy for air travel. Its applicability in Indian context was also explored.
The second speaker was Dr Arnab Majumdar from Imperial College of London. Dr Majumdar is a post doctoral research associate in the Centre for Transport Studies, department of civil and environmental engineering. His topic was development in air space capacity and safety research. He has spent almost a decade in researching on what the Air Traffic Controllers do, and why do they commit mistakes. If you increase the air space capacity it leads to increase in enroute controller's workload. He also gave up information on various simulated mathematical models to determine the airspace capacity and to determine the controllers' workload. He concluded by saying that due to rapid growth in aviation, we need to increase the airspace handling capacity and calculate the workload for Air Traffic Controllers and to understand why incidents happen keeping the human factors in mind.
The third and last technical session "Galvanising Civil Aviation – A Cultural Shift" was chaired by Shri H S Khola. First speakers were Dr Abha Chaturvedi and Dr Anil Chaturvedi of MDI, Gurgaon. Dr Anil Chaturvedi is a qualified aeronautical engineer, a product from Pune University. He was a faculty member in many of the top of the list management schools in India. Dr (Mrs) Abha Chaturvedi, after completing her masters and doctorate from the Lucknow University, she was associated with administrative college of India at Hyderabad on various research assignments. Their topic was "Challenges of Cultural Transition". They emphasised that a cultural change needs rethinking on learning innovation and relational capabilities. Changes must be seen as a organisational necessity and not an agenda of an individual. The logic of change must be clearly stated and widely shared.
The last speaker of the seminar was Mr Soon Boon Hai, Astt Director, IATA, Asia Pacific, Singapore on "The Cultural Shift – An ATCO's point of view". Before his present assignment, he was an Air Traffic Controller by profession, working for Civil Aviation Authority of Singapore in various capacities including the Chief Air Traffic Control Officer. He is deeply involved in almost whatever is happening in aviation field in the Asia Pacific region. The controllers in the region look up to him as a role model. He gave a presentation on what a controller needs – runways, taxiways, air routes, better air space utilisation. He dwelt on parallel independent approaches in context of the sighting of the runways as required by ICAO standards. He urged the Air Traffic Control Officers to be part of the solution at all stages of planning and decision making. The controller has to think, manage instead of controlling traffic.
The Chief Guest for the Valedictory session, Mr Praful Patel, Hon'ble minister of Civil Aviation had the opinion that Changes are taking place world over in Civil Aviation industry and India is lagging behind. The efforts by the Air Traffic Controllers' Guild in organising a platform, to deliberate on the topic of "Synergising ATC-Airports-Airlines" were praised by the minister. He told it very categorically that even though India matches China, population wise, the number of civil aircraft in China is five times more than that of India. Of late, he said, efforts are being made to develop the airport infrastructure, but it needs to be done at a rapid pace to cope up with the need.
Airport planners must have a vision for future rather than meeting day to day requirement. All agencies concerned including ministry and AAI must endeavour to make world class airports as the contribution towards the national economy. Industries, especially tourism, will be directly benefited. When he talked of tourism, he said, a tourist doesn't mean foreign tourists but domestic tourists also. Air Traffic Control plays a very vital role in the Civil Aviation industry. For time to come low cost airlines are likely to capture middle class people of the society – consequential effect will be increase in aircraft movements and crowding the Indian skies. Even though technical support adds to the controllers' decision making, there role cannot be undermined. Proper training of the Air Traffic Controllers and exposure to new technologies is the need of the hour to meet the challenges in the sky. Airports like Delhi, Mumbai, Kolkata and Chennai needs to be upgraded to world class standard through private participation. ATC to be upgraded and airlines to be encouraged to meet the future challenges of Civil Aviation, more so a concerted and coherent effort is needed with the active support of Government and AAI.